A kinder business is good business
A culture that cultivates kindness, in turn, nurtures high performance. Turn the culture you have into the culture you need.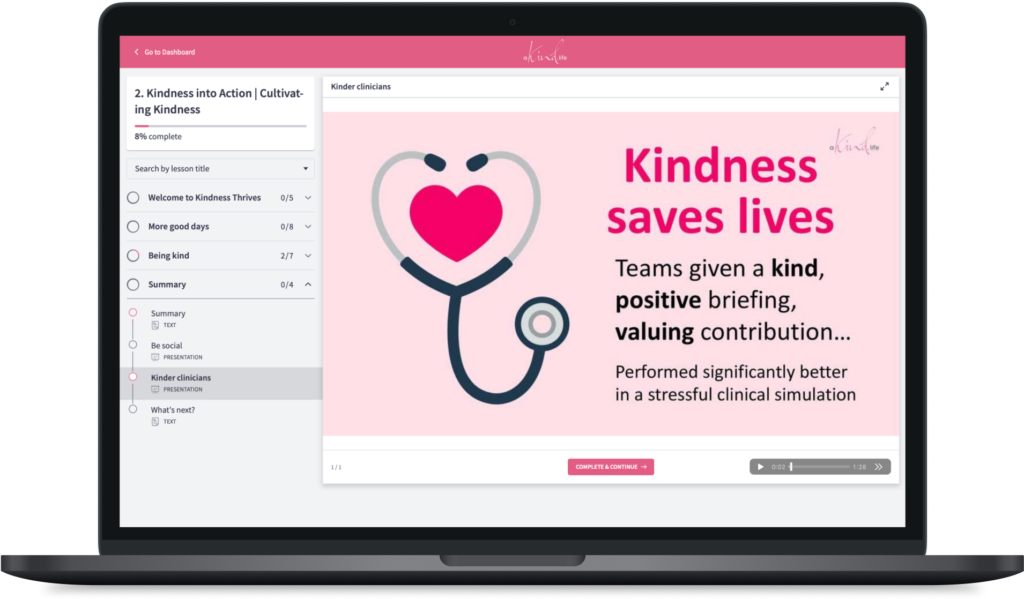 Workforces everywhere are suffering from an unkindness epidemic
Around 23% of the UK workforce report they have been bullied at work, and 25% report that they have been made to feel left out in the workplace. These unkind behaviours break down the teamwork that's essential for high-quality work. They make mistakes and errors more likely. They make colleagues miserable. And they are contagious.
But there is a solution to the unkindness epidemic
Over the past ten years, we have worked with more than 40,000 staff to nurture more consistently kind, safe cultures, across their organisations.
The Kindness into Action learning programme consists of five online learning modules, and is specifically designed to support your kinder culture transformation.
Since its introduction in January 2022, fifteen NHS Trusts and two Integrated Care Systems are already benefiting from Kindness into Action.
Animation of the evidence
Practical kindness in healthcare
How and why to mind your impact
7 conversations to improve wellbeing
Kindness into Action
This module lays the foundation for the Kindness into Action programme with a brief animated tour through the evidence for kindness and against incivility. You'll learn:
A brief introduction to the five Kindness into Action modules
'The case for kindness' to colleagues and patients
A taster of what to expect in the modules that follow
Cultivating kindness
It's not just good to be kinder, in this module, we look at the evidence showing that kinder healthcare is higher quality healthcare. For each source of evidence, we dig into what that means and explore specific ways of bringing kindness into your work to reap these benefits. You'll learn:
What being kind means for frontline staff in the NHS
How showing appreciation can improve engagement and performance
Three things you can do to improve the days for others
Undoing unkindness
In this module, you'll learn how unkindness, be it uncivil behaviour, banter, or bullying, impacts the safety and well-being of staff. You'll learn:
The true meaning of incivility and its impact
What unkindness really looks like in healthcare
How you can begin to undo unkindness in your organisation
RECOVERing wellbeing
Bring all of the training together with the RECOVER framework, a simple model to encourage kindness and support wellbeing in your team. You'll learn:
Seven conversations to improve well-being in the team
Practical tips to enhance your own well-being right now
Consolidate your learning from the previous modules
"The Queen Elizabeth Hospital is now a fundamentally kinder place, thanks to A Kind Life."
Ready to shape a culture that cultivates kindness and nurtures high performance?
Together, we can create a kinder culture. At pace. And at scale.
If you would like to create a kinder culture that unlocks your organisation's potential, get in touch using the form. We'd love to hear from you.